INSTITUTE FOR MANUFACTURING MASTERCLASSES
PART OF: SMART FACTORY EXPO | 16 - 17 NOVEMBER
What is an IfM masterclass?
Taking place within Smart Factory Expo, the Institute for Manufacturing (IfM), University of Cambridge Masterclasses are designed to challenge and extend your thinking in relation to some of the most pressing challenges and opportunities you and your organisation face.
We use research and frameworks developed at the University of Cambridge so you can gain practical insights and recommendations you can take back to your business after Digital Manufacturing Week.
These interactive workshops are free to attend, but places are limited to 25 due to the format of the sessions. Early registrations will have priority booking access.
To apply for an IfM Masterclass you must be registered for Smart Factory Expo otherwise you will not be able to access the IfM theatre.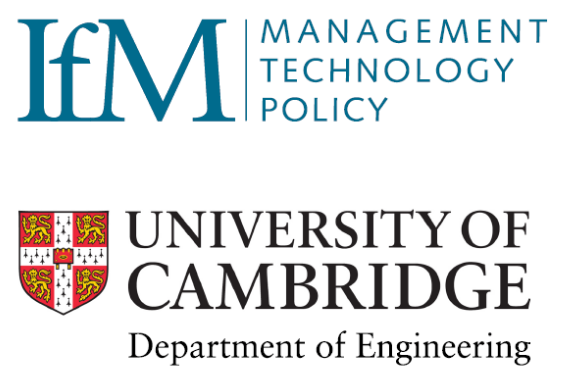 Why attend?
Through discussions with your peers, and guided by an IfM Industrial Practitioner, you will have the opportunity to explore and work through knotty problems in a supportive and open environment. Our Industrial Practitioners have extensive expertise in supporting organisations across many sectors, and so are ideally placed to answer any questions you have and unpick the challenges you are facing.
Masterclasses will run across the two days of the exhibition and all sessions will take place in the IfM Theatre in the Smart Factory Expo – a floor plan will be circulated nearer to the event.
Tools to help reduce your factory's energy consumption
Environmental targets set out in the Paris Agreement of 2015, and dramatic price falls in renewable generating technologies, have combined to encourage businesses to cut their energy consumption and, in the process, reap savings on their bills and emissions.
In this session we will introduce our energy saving card game designed to get you thinking differently about energy saving.
We will share a case study for how one company started with the card game and is now saving over 200Million KWh ~ 1Million KWh per year per factory.
Presented and facilitated by Professor Steve Evans, the IfM's Director of Industrial Sustainability.
Your roadmap to technology and innovation mastery
A technology and innovation strategy that is well-aligned to corporate and product goals gives leaders the ability to make sharper, more informed decisions, and to better account for crucial investment choices.
In this masterclass, you will learn how IfM tools and approaches support successful technology and innovation management. Hear from expert practitioners in this field and gain insights from peers about their challenges and successes in this area.
Presented and facilitated by Rob Munro and Andrew Gill from IfM Engage, University of Cambridge, the session will equip you with a clearer understanding of where your technology needs should come from and how to build a more capable organisation.
Sustainable Continuous Improvement – the key to meeting your 2030 manufacturing targets
For most manufacturers, making a plan to meet corporate sustainability targets can seem daunting. The key is starting small and building up incremental improvements over time.
This session will look at:
how you can find the real waste in your business – whether that be material, energy, water or something else
how to convert your business to driving profitable sustainable performance
how to get people in your business involved and onboard
Presented and facilitated by Ian Bamford from the Institute for Manufacturing's (IfM) Centre for Industrial Sustainability. Ian has been delivering these programs together with Gary Punter former CTO of AB Sugar. Gary and Ian brings thier experience from industry into research at the IfM to help more companies implement environmentally sustainable businesses practices.
Scope 3 emissions: Ways to engage your supply chain
The UN reports that Scope 3 emissions usually account for more than 70% of a business' carbon footprint. It is therefore crucial that companies tackle Scope 3 emissions to meet their sustainability targets.
This session will help you to:
understand upstream and downstream Scope 3 emissions

learn how to reduce Scope 3 emissions in your supply chain
We will also share learnings and insights from the Institute for Manufacturing's Sustainability Association, a members' network for companies looking to take action towards their sustainability goals.
Presented and facilitated by Ergun Gungor from the IfM's Centre for Industrial Sustainability.
Where best to digitalise?
Digital technologies can help businesses create value for your customers and presents opportunities for you to capture that value for yourselves.
In this masterclass, we will cover how you can identify your core competences, and how you can use this to give an indication of where your business would get the most benefit from digital transformation
This could be to improve your internal efficiencies or enhance your customer experience.
Presented and facilitated by Dr Imoh Ilevbare, Principal Solution Development Specialist with IfM Engage at the University of Cambridge.
To apply for an IfM Masterclass you must be registered for Smart Factory Expo. Early booking is advised to ensure the best chance of securing a place!
Disclaimer:
Each masterclass is organised by IfM Engage at the Institute for Manufacturing (IfM), University of Cambridge, and is free to attend. The IfM's mission is to manufacture a better world through the impact of our research, education and practice activities in the manufacturing community. To support this objective, we are only accepting bookings from manufacturing and technology organisations for these masterclasses - we will not be accepting bookings from consultancies.